About Us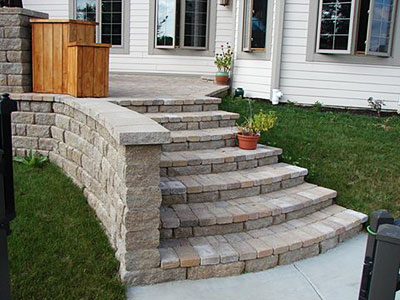 Thank you for your interest in Lawnscapers Inc. and Belgard hardscape products. We strive to "Enhance your outdoors, by turning your vision into reality." Lawnscapers Inc. is a full service landscape company, founded in 1987, and is family owned and operated. We are a Belgard authorized contractor and have had a partnership with Belgard since 2005. We specialize in patio's, retaining walls (natural and manufactured), seating walls, stairs, pillars, firepits, custom fireplaces, plantings, drainage solutions, excavating, grading, plantings, and seeding. We also install Harmony Outdoor Elements and Chicago Brick Ovens.

We recommend that you research the products you like, get some samples and visit some examples of what you like. This helps visualize the end result. Measure your patios set and mark it out in your yard, to make sure your patio is large enough. Think of your patio as an outdoor room, what would you like to do with that room? Click on our tabs below to find examples of outdoor living.

Lawnscapers, Inc. installs a wide range of architectural and ornamental products, segmental retaining walls, and interlocking pavers. We create personal getaways, private sanctuaries, and secret havens by blending shapes, textures, and colors to inspire your personal desires.

Lawnscapers, Inc. specializes in all phases of brick and interlocking concrete pavers design and installation for any residential or commercial exterior application.

Lawnscapers, Inc. is at the forefront of paving stone installation. We enjoy what we do, are constantly striving for excellence and warranty our work from the ground up. We believe that as people become aware of the superiority of a segmental pavement and that as we continue to require our customer's overwhelming approval of our installations, Lawnscapers, Inc. will continue to be a dynamic leader in an expanding industry.

We would be glad to provide you with a list of projects that you could drive by to determine if a paving stone driveway, walkway or front porch gets you excited.

Please call for a free consultation, estimate and references. Or click here to request a free online estimate.
We Provide Services to the Following Cities, Towns and Surrounding Regions of WI: