Lawn Maintenance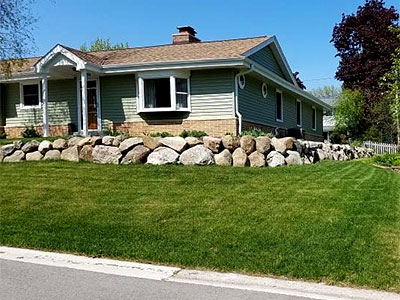 Are your lawns looking a little under the weather? Do you see bare or brown patches in the grass or do you feel that you are strapped for time to handle regular mowing etc yourself? Well, why worry when you have the local lawn care experts just a phone call away?

Lawnscapers Inc is a full-service lawn maintenance company. We can efficiently turn your lawn around with our tailored lawn care packages. For over three decades, we have helped design, build and maintain landscapes for clients in and around Cedarburg, Grafton, Mequon, and Germantown.


Range of Lawn Care Services
A large number of property owners in Port Washington, Brown Deer, and Menomonee Falls trust only our company with all their ongoing lawn maintenance requirements. We also handle projects for clients in Richfield, Glendale, West Bend, as well as Whitefish Bay. The different services we offer include:


Lawn mowing and trimming
Garbage pickup
Bed definition
Bed mulching
Weed control
Spring and fall cleanups
Aeration
Lawn Rolling
De-thatching
Leaf blowing all paved surfaces is included in weekly service
Specialized Lawn Treatments and Products
There are a number of things we do differently from other companies in this space. Our attention to detail, specialized lawn care products and techniques help maintain the appearance and health of the grass. Some aspects of our services include:


We use slow-release, professional-grade, granular fertilizers to provide a consistent supply of nutrients to your grass.
Broadcast applications of special weed control liquids are the most effective method to address broadleaf weeds and dandelions in your lawn.
We use advanced, organic pest control products to control pests such as grubs, ticks, mosquitoes, spiders, ants and other insects on your lawns.
With our proven turf treatment programs, you no longer have to worry about the task of treating the lawn yourself or even about removing those pesky weeds.
Our certified lawn care specialists will monitor your grass for turf damaging insects and turf disease right through spring, summer & fall and recommend the appropriate lawn treatment curatives to keep the turf insect and disease-free and looking stunning all season long!!!
Custom Lawn Maintenance Packages
Turf care is our specialty; we will provide the care necessary to make your lawns green, lush and weed-free. If you are looking for customized turf care solutions, Lawnscapers Inc is the company to come to. For any more information about our services or lawn care cost feel free to call us at 262-377-5885.

If there is an immediate requirement you can send us a text at this cell phone number-(414)-791-6804. Alternatively, send us requests and queries through the Contact Us form on our site. With our experienced turf care professionals handling the job, you can rest assured that your lawn will be healthy and look great right round the year.
We Provide Services to the Following Cities, Towns and Surrounding Regions of WI: