Snow Management
Lawnscapers, Inc. Snow Services

Wisconsin weather can change at any time. Lawnscapers Inc. is driven to provide our clients with timely service, to take care of anything Wisconsin weather can throw at us. We take control of your property before the snow and ice do. We provide residential and commercial snow/ice control services.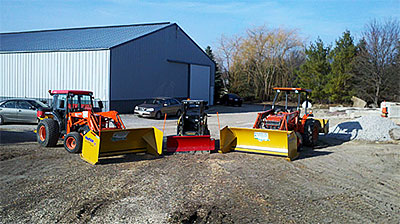 These services include:


snow plowing
snow removal
loader service with push blades, and snow plows
Ice control
Snow blowing and shoveling service
24hr on call staff

Please contact us for any of your snow/ice control needs.

OFFICE: (262)-377-5885
CELL: (414)-791-6804 (Send text for any immediate need)


Trust the Experts in Snow Removal
For many decades now, Lawnscapers, Inc. has handled some of the toughest snow and ice clearing operations for our Wisconsin clients. Our services are available 24/7, so you can immediately address your pressing snow and ice management concerns. Whether it involves snow removal or ice control and other related services, our crews know the proper procedures and methods for every imaginable task. We can guarantee clients with reliable snow services at a price they can afford. With us, professional help is just a phone call away.


Effective Snow Removal Techniques
Our snow services are focused on providing clients with outstanding results when they need them the most. We use and apply effective snow removal techniques such as applying cooking spray on shovels and using de-icing solutions and salt spreaders to tackle ice problems more easily. We also perform proactive steps like prematurely applying salt and similar solutions over driveways and pavements to prevent ice accumulation. Moreover, we create snow management plans that include tasks that will mitigate snow and ice damage on properties, landscape features, and underground utilities. When you avail our services, you won't have to worry about snow accumulation in your backyard or commercial property.


Complete Tools and Equipment
Our company has invested heavily in procuring snow removal tools and equipment such as salt spreaders, snow blowers, snow plows, ice choppers and scrapers, shovels, rakes, and the like. All of our equipment and tools are operated by well-trained crews who work quickly to address every ice and snow clearing task. Our crews wear protective clothing so they can perform their tasks efficiently.

Meanwhile, we maintain an inventory of de-icing solutions that can handle every imaginable ice problem. Our personnel are trained on the proper application of these solutions to achieve the best results. More importantly, we dispose collected snow in proper disposal sites so clients won't have to hire another contractor to do the job.


Save Money with Long-term Contracts
While our rates for on-call jobs are already affordable in comparison with other companies, our clients can save additional dollars when they opt for our long-term contracts. Why pay every time you call us for help when you can just sign a contract, pay a one-time service fee, and then just call our crew whenever a snow and ice concern presents itself? We can assure you that such a setup will not only be convenient on your part, but will also allow you to save some hard-earned dollars. You will also enjoy premium services when you avail our packaged snow removal services.


Reliable Snow Services in Wisconsin
As mentioned, we're the best place to go to for all your snow and ice management needs. Whether you need us to remove snow on your front yard using our snow blower or you require our loader with snow plow to clear your driveway of a heavy snow build-up, our crews are always on standby. Our snow services are available round the clock, so worry not when winter comes.

If you wish to learn more about our comprehensive snow services, please call (262) 377-5885.
We Provide Services to the Following Cities, Towns and Surrounding Regions of WI: